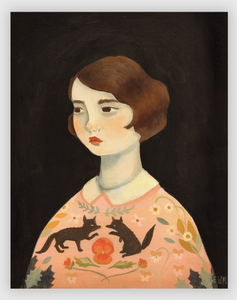 Emily Martin (The Black Apple) does amazing paintings, and we're excited to have a few of them as prints. Measures 8 x 10.

She says about this portrait, "I like the notion of someone's inner nature being illustrated across their heart, perhaps unwittingly. The companion piece is called Rabbit Hearted - I'm not sure if they are friends or foes."
Expertly printed with an 11-ink fade-resistant color process on a smooth, enhanced archival matte paper creating rich blacks and vibrant colors by the Land Gallery in Portland, Oregon.