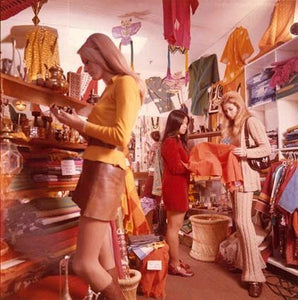 PLEASE NOTE: make sure you are prompted to SELECT TIME. Once you choose your time- add to your cart. Then you MUST check out. It will prompt you to put in your name and contact info. Please make sure you receive a confirmation email. If you need help call us at 289-389-9898.
As we navigate this unique time, we are excited to offer shopping appointments! These can be pre-booked at a time that suits you, and we can accomodate up to 2 people (you can be from seperate households).
Appointments are 15-60 minutes in length and will be with one of your favourite shopgals!
Safety Measures to Consider:

we ask that each customer wears a mask. if you don't have access to one, please let us know in advance.

each customer will be asked to use hand sanitizer at the entrance to the shop.
throughout your visit, we ask each person (shopper and shopgal) to stay 2 metres apart. this can get a little awkward but we will let you know how to move and interact in the space.
we may have rules about which items you can touch or not, but as a general rule please ask before you do touch and only consider touching items that you are interested in.
you may try items on, however we may require that specific items are handled in a certain way. but don't worry- we are here to help figure it out!
if you want to shop with a friend, that's great! but we just ask for you to be mindful when moving throughout the shop.
Payment:
all items purchased can be paid via debit/credit or etransfer. we won't be accepting cash.
Item Availability:
because our full inventory is now available through our online shop, we ask that you let us know in advance if there's something specific you are coming to try on. we will do our best to hold the item for you (make unavailable on the online shop) within reason.
we ask that you are mindful in how many items you try on. after each appointment, any items that were tried on will go into quarantine for 24 hours, meaning they won't be available to other customers until after that point. by considering this, and only trying items on that you really like, you can help us avoid having too many items set aside that are unavailable to someone else.
Booking:

please use the calendar to see available times. we will schedule 15 minutes between each appointment for necessary sanitizing/cleaning.
not sure how long to book? here's a handy dandy guide
15 minutes: you know what you're coming for and just want to do a quick browse. maybe there's a pair of shoes you want but you need to try on two sizes to know which is best.
30 minutes: you have a sense of what you're looking for, but you also want to browse. find a gift for a friend, try on a couple items, etc.
60 minutes: you have a bunch of items you need to try on to find the right fit (for example: jeans, swimsuits, etc.), two friends who both plan to try on items, or you're feeling particulary chatty :)
If you have any other questions, feel free to reach out to us at whitney@girlonthewing.ca