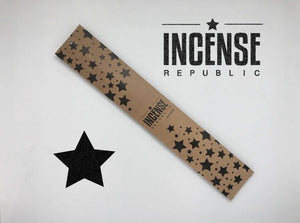 These incense are hand-dipped in Toronto by Felicia Fraser, aka Incense Republic. Using the finest natural ingredients, Felicia mixes high-quality perfumes and essential oils to create these dreamy scents. They last longer and aren't chemical-based. Each pack contains 20 incense sticks (each with a burn time of 45-60 minutes) made with natural, eco-friendly, ethically sourced ingredients.
Freedom (Bergamot + Lime): fresh floral (Bergamot), citrus (Lime) with a light musk base. Fluid and free-flowing, it's everything the name invokes: Cool waterfalls, fresh rain, and crystal-clear glacier springs running through a flowery meadow. 
Sovereignty (Madagascar Vanilla + Clove + Sandalwood ): combines Madagascar Vanilla, Clove, Jasmine and touch of warm Sandalwood. Reminiscent of a beach house in late fall or a cabin tucked in the woods, this scent reminds you that you're safe and warm and cozy inside whatever the weather.
Move Forward (Frankincense + Myrrh ): woody aromas and swirls of fruity overtones, these deep and powerful scents rooted in human-kinds history give a reminder of how the past and present are intricately connected.
Autonomy (Jasmine + Lilac + Vanilla): This incense blend combines Jasmine, Lilac and warm Vanilla with base notes of Caramel. Warm, seductive, and unforgettable, it reminds us that opposites do attract and paradoxes resolve.
Persevere (Muguet + Champaka + Sandalwood): This incense blend combines delicate floral and fresh Muguet and Champaka blended with a light Musk. This rich Nag Champa blend encourages us to pursue the best version of ourselves. This incense has top notes of Black Currant, Sandalwood with woodsy base notes. 

Speak Your Mind (Cedarwood + Orange + Balsam Fir ): This incense blend combines notes of Cedarwood, Orange and hints of floral for a fresh slightly masculine, uplifting fragrance.

Of the People (Myrrh + Patchouli + Musk): This incense blend combines rich tones of Myrrh and Patchouli, contrasting a very subtle sweetness of Jasmine and Musk. This scent is earthy yet complex, and serves as a reminder of our interconnectedness.

Honour (Jasmine + Lilac + Apple): If incense could sparkle this would be it. A sweet Jasmine based incense has notes of floral Apple, Rose and Lilac. Honour yourself and your home.  

Liberation (Coconut + Sandalwood): warm and soft scent of coconut mixed with spicy undertones of sandalwood. This irresistible incense is reminiscent of a breezy summer day.  Warm and soft this scent reminds us of our absolute freedom to choose and just be.  
Independence (Floral + Musk + Cedarwood): sweet smell of floral tempered with deep musk and Cedarwood. Juicy and warm it's the perfect way to embrace your space and your life.

Stand Up (Lavender): Close your eyes. Breathe in deeply. Just be. With fresh and clean lavender, this herbaceous scent is what you need to relax your mind, muscles, and mood.
Mastery (Musk + Orange + Eucalyptus): Soft and subtle Eucalyptus essential oil and Musk mixed with a hint of Orange.  Mastery comes in all different forms - Your home should be one of them. Good for Relaxation and Anxiety relief, Meditation and Clarity.

Need an incense holder? This one, by Nightshift Ceramics, is the best: click here!