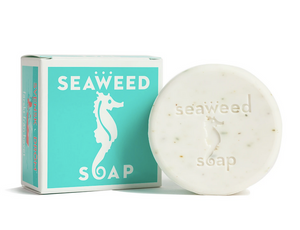 Active marine algae extracted from select seaweeds contain fatty acids that help protect the skin's barrier.  Seaweed extracts are packed with vitamins and minerals that help soothe, soften, and lock in moisture. Great for a skin-healthy shave too! Drop the soap in a mug and lather up, or use it for legs!

Key Ingredients: Sustainable palm and coconut oils, sea salts, glycerin, sunflower seed wax. Made in the USA.

What it smells like: your favorite day by the sea!