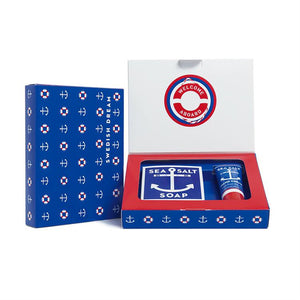 Your fave sea salty soap and matching pocket-size hand crème are now in a neat little gift set.
A classic, crisp, "like a day at the beach"sea salt scent, combined with a rich foamy lather and natural exfoliators will keep skin soft & smooth all day. Great for a skin-healthy shave too! Drop the soap in a mug and lather up, or use it for legs.
Perfectly pocket sized, this hand crème is sure to keep your hands nice and seaside soft all year round!

Made in the Ocean State, Rhode Island.

What it smells like: your favorite day by the sea!