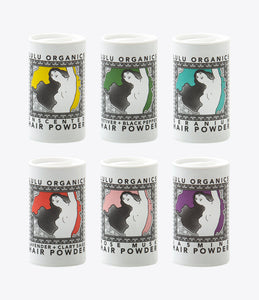 The original, talc-free, organic dry shampoo powder. It will soak up oil at the root, give you extra body and leave your hair looking and smelling as fresh as a day-one wash. A must for any hair product collection. And with five different scents to choose from, you are sure to find one you love! This is a travel and purse size version  (1 oz.) and comes in 6 scents.

LAVENDER + CLARY SAGE — The clean and intoxicating aroma of lavender perfectly partnered with an invigorating clary sage.
PATCHOULI + AMBER — The ever musky patchouli cut with a hint of powdery amber.

GERANIUM — A fragrant mix of rose and citrus, floral and heady.
ROSE MUSK — A heady Bulgarian rose mixed with musky notes of patchouli, vetiver, sandalwood and cardamom.
JASMINE — The mysterious lady jasmine in full bloom.
UNSCENTED — For those of you who are scent averse!