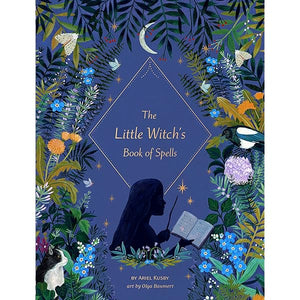 An enchanting compendium of playful spells, potions, and activities for kids 8 to 12 years old as well as teens seeking a first book of magick.
Ariel Kusby is a writer, editor, children's bookseller, and practicing witch. She lives in Portland, Oregon.
Olga Baumert is an artist, illustrator, and graphic designer. Originally from Poland, she currently resides in Leicester, England.
From Harry Potter to Disney's 
Descendants
 to 
Kiki's Delivery Service
, witchcraft and wizardry have enchanted kids around the world. Now, young witches-in-training can undertake their own spellbinding studies with this playful and immersive guidebook to all things magical.
Filled with simple activities using easily found ingredients and complete with lush illustrations, these pages offer easy-to-follow guidance on:
Spells to resolve problems, foster friendship, and engage with the natural world
How to craft a magic wand, befriend a fairy, and read tea leaves
Glossaries of magical terms and symbols
The Little Witch's Book of Spells
 harnesses magic and the imagination to help kids feel powerful, tap into creative energy, and practice self-love.
UNIQUE CHILDREN'S WITCH BOOK: A rare book for witches or witches-to-be, this collection of spells and activities addresses concerns just right for young readers, including Best Friends Forever Spell, Jump Rope Protection Spell, Get Well Soon Elixir, Blanket Fort Magical Fortress Spell, How to Make a Magical Fairy Garden, and Mermaid Bath Spell.
MORE THAN A HALLOWEEN BOOK: A kids' spell book is perfect for the season of all things spooky and scary, but this instructive guide offers plenty of good ideas for year-round magic and merriment.
POSITIVE & CREATIVE OUTLOOK: Appealing for kids of any gender identification, this mystical, fun, and empowering book is filled with different ways for every reader to find the magic in themselves.
Perfect for:
Any child enthralled by the magical world
Gift for parents who want to encourage imagination, creativity, and play
Reluctant readers and emerging readers seeking sweet, engaging, and interactive books
Anyone looking for ideas to connect spiritually with the natural world
Fans of the Harry Potter book and movie series,

 

Witches of Brooklyn,

 

The Okay Witch,

 

Descendants:Mal's Spell Book, and

 

Wizardology: The Book of the Secrets of Merlin