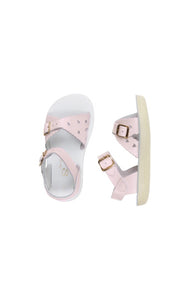 The Sun-San® Sweetheart is a pretty sandal with heart-shaped cut-outs and scalloped edges. It's fully adjustable with a buckled toe and ankle straps. As seen on many celebrities kids – the Sweetheart is a very popular choice. The combination of comfort-ability, durability, and fashion make these a wear-anywhere sandal.
Please note: toddler sizes (3-8) are priced differently than childrens sizes (9-13).

Walter Hoy first made these in his work shop circa 1944. The Original Salt-Water® Sandal is defined by its hand-stitched, non-slip, molded rubber sole and scuff-resistant, water friendly genuine leather upper. All Salt-Water® Sandals clean up very easily, come with rust-proof brass buckles, and made for in-and-out of water wear. They go from children's sizes all the way up to adult sizes and are popular among celebrities and fashionistas alike. They are a comfortable, durable combination of timeless style. The tan Salt-Water® Sandal was the first color to be made from scrap World War II boot leather in 1944. These versatile sandals combine comfort, fashion and functionality.
Unsure of your kiddos size? Use this handy dandy size guide:
Draw a straight line down the middle of a piece of paper.
Stand on the line with your longest toe and heel centered to the line.
Have someone draw a mark on the line at the tip of the longest toe and at the back of the heel.
Repeat the steps 1-3 on your other foot for good measure.
Measure the distance of the marks with a ruler in centimeters.
Compare two measurements with the Size Graph below