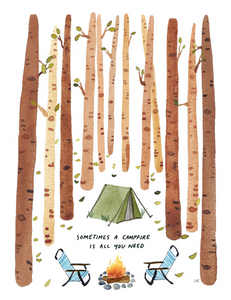 All you need is a tent, a campfire and a pal and you're set!
Lori Roberts runs Little Truths Studio from a tiny studio set in the lush green landscape outside of Portland, Oregon.
She seeks deeper truths and understanding about ourselves with her work — what it means to be human, finding happiness, the importance of interconnectedness, and our intrinsic need for nature.
This is an archival reproduction of one of Lori's original watercolor paintings, printed on a smooth, enhanced matte paper using with an eleven-color high definition ink process by Land Gallery in Portland, Oregon. 
 8.5" x 11"