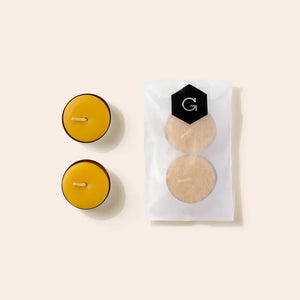 Our tealights glow warmer, brighter, longer and cleaner than other types of wax. 
Made from the highest quality beeswax from our hives, cotton wick, and come in a recyclable aluminum cup.
100% natural and non-toxic. 
Sold in a pack of 2.
To minimize smoking and for an efficient burn, keep your wick trimmed ¼" before burning. Make sure to burn candles on a fireproof surface that will contain any dripping wax. Never leave a burning candle unattended. Keep your candle away from pets and children.
By Gibbs Honey.