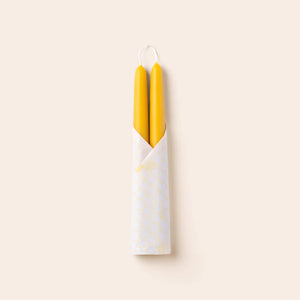 Our taper candles are carefully hand dipped using traditonal, time honoured methods. They glow warm, bright and clean and are the perfect addition to your table or home. 
Made from the highest quality beeswax cappings from our hives and cotton wick. 100% natural and non-toxic.
Sold in pairs.
To minimize smoking and for an efficient burn, keep your wick trimmed ¼" before burning. Make sure to burn candles on a fireproof surface that will contain any dripping wax. Never leave a burning candle unattended. Keep your candle away from pets and children.
By Gibbs Honey