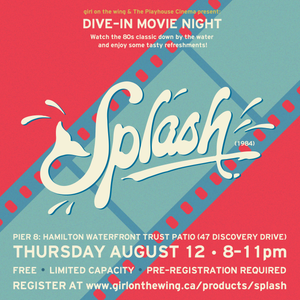 Outdoor movie nights are our favourite and we can't wait to see you for two screenings this summer, in partnership with The Playhouse Cinema.
On Thursday August 12th we will be screening the 1984 classic "Splash" starring Daryl Hannah, Tom Hanks, John Candy and Eugene Levy.
FOR TICKETS:
add them to your cart (remember max. 4 per person!). check out- it will ask for your email and contact information. for delivery just pick "curbside pickup"- however you don't need to pick them up in advance. we will add your name to the list which will be available on-site at the event. We will send out a confirmation email a few days before the event with more info.

ADVANCE PURCHASE YOUR SNACKS:

Popcorn and Candy need to be pre-ordered via the Playhouse. Head to this link to purchase in advance of the event. https://playhousecinema.ca/movie/pier-8-pop-ups-dive-in-movie
ON-SITE SNACKS (no pre-purchase necessary)
Doors open at 8pm, Movie starts around 9pm after sunset. Chairs will be provided. Please arrive with mask on. Location is Hamilton Waterfront Trust at 57 Discovery Drive. When you arrive and see the building, walk to the left of building, all the way around to the back, and you'll see the event entrance.
Seating is limited to allow for social distancing so you MUST register in advance. Maximum 4 tickets per order. Add them to your cart, check out, and you will receive an "order" confirmation from Girl on the Wing. We'll then add your name to the list for the night of the event. If any issues please email whitney@girlonthewing.ca