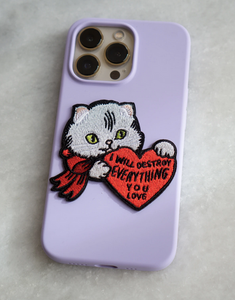 I will destroy everything you love (:

2.5" high x 2.75" wide embroidered patch with ADHESIVE backing so you can stick it on all the things! For a more permanent hold simply iron it onto fabric as you would an iron-on patch. 
Our newest patches were designed with the intention of being useable on most phone cases to add a little textile flourish to your everyday device. We made them with fewer light colours so they won't scuff up quickly, the polyester thread can be spot cleaned with a little bit of mild soap and water.  When you're ready to switch it out, peel off and use goo gone on the phone case to remove any sticky residue!