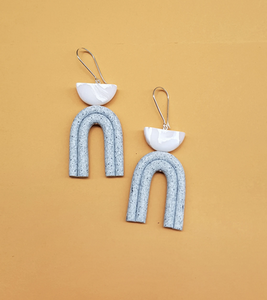 Handmade Abstract Statement Earrings with inverted U shaped with semi-circle marbled clay.
Colour : Grey, White
Material : Polymer Clay, Rhodium Plated Hook/ Sterling Silver Hook/ Clip On
Length :  4.5 cm / 1.8 inch
Made for the curious, handmade in Singapore.
Tsunja is a Singapore-based contemporary hand-crafted jewellery studio, dedicated to redefining modernity and celebrating quirky and bold statement pieces. Each piece is individually hand-moulded and carefully assembled. by the designer and maker, Jessica Jasmine. We love Jessica's pieces because they are the perfect fusion of modern and vintage.