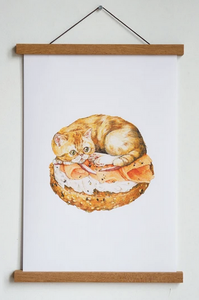 The artist's own description: Orange tabby blankets a lox bagel ("everything" variety).

Cloey Zikmund is a tattoo artist based in Chicago who started making these beautiful cat + food prints as a creative outlet during 2020's lockdowns / closures. We licensed a series of them as riso prints because they charmed the hell out of us. 
Artwork by Cloey Zikmund
11" x 17" risograph print
Printed on cream 67lb cover weight paper
Does not come with wooden hanger. This is for the print only.